Software for result displays
ScoreBoard is a new PC-based software to display game results during the competitions.
The software is based on MS-Windows and is very easy to handle. A special control unit enables fatigue-free handling - allowing the operator to concentrate fully on the game.

Self-explanatory software

Two working modes
The ScoreBoard software has been developed for small as well as large events and permanent installations.
For small sporting events, this single-mode can be used. A laptop is connected. The operator screen will then appear on the monitor. Normally, the PCs in this class have a second graphics output. There the result monitor is connected. The structure is thus very simple. Only one cable needs to be connected.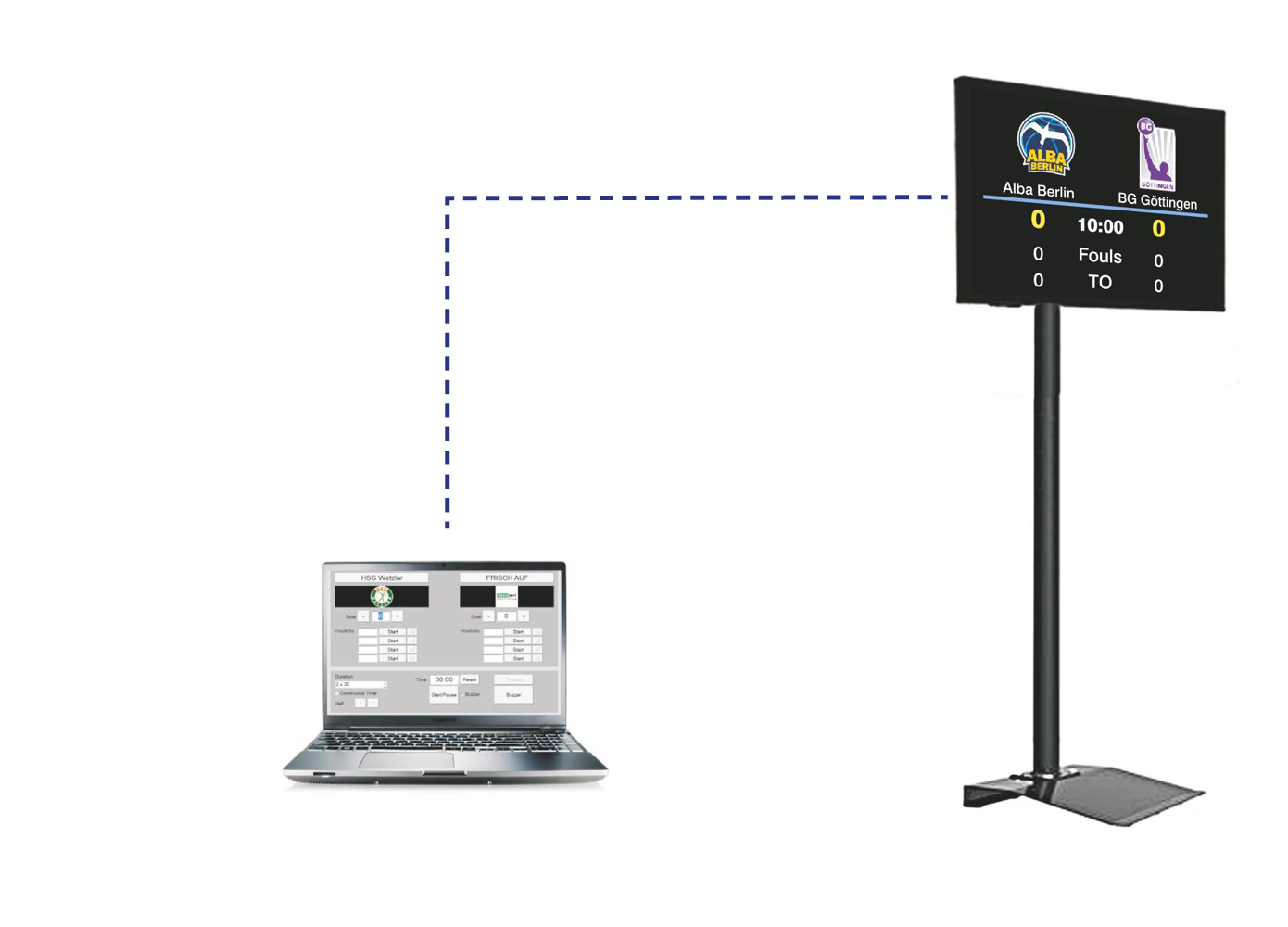 For permanent installations we recommend the server mode. It can be operated in a computer network, whereby even long cable runs can be realized. In addition, different places can be defined within a hall, where the operator can switch on, because normally the sports require different locations for the bediner.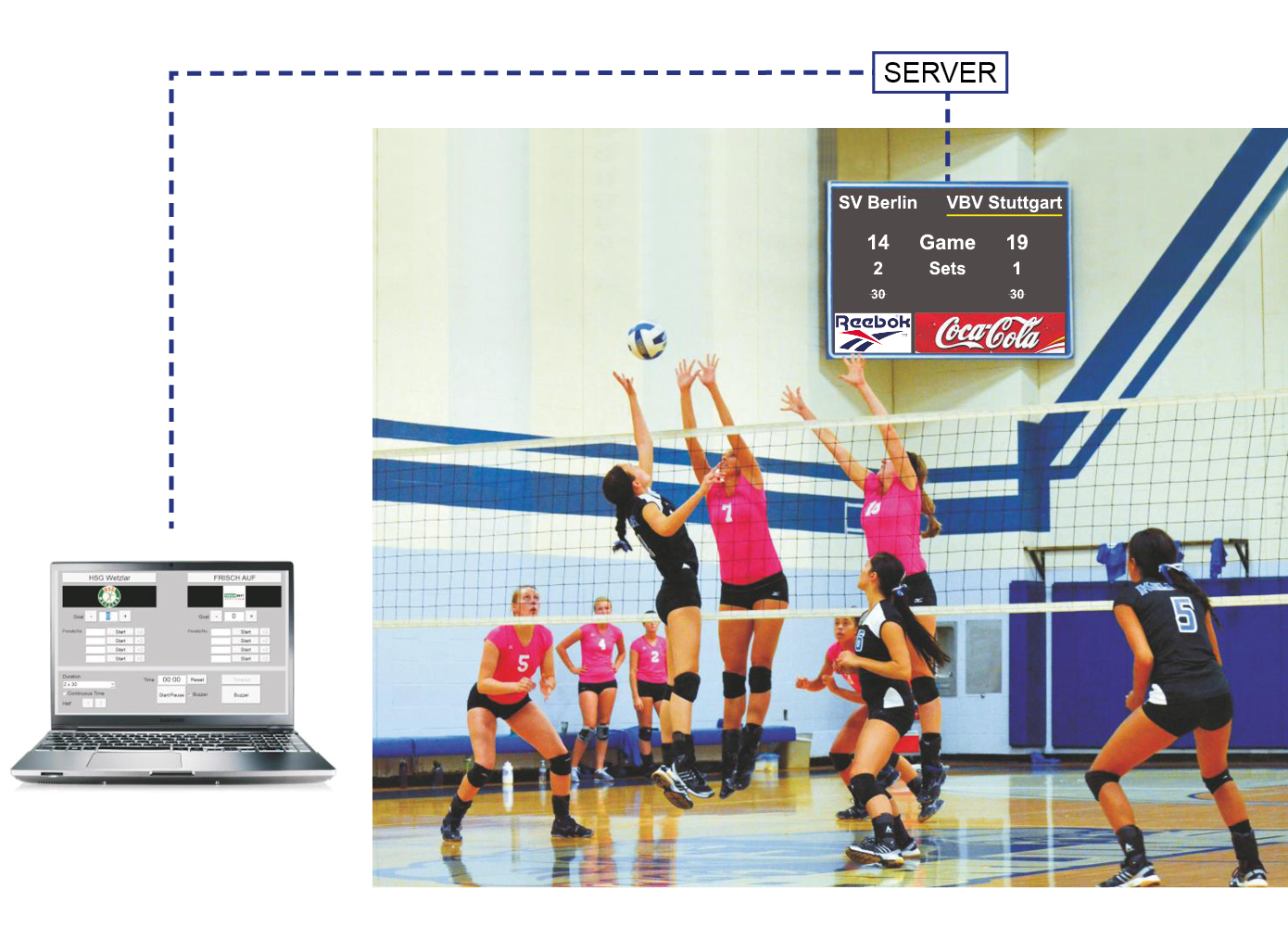 display medium
There are several options for the display medium. Usually the following techniques are used.
Various sizes are available here, this goes up to a size of 2m and is thus sufficient for many halls. It is particularly important when purchasing that the monitor has a protective glass against ball hits.
Projectors can be used extremely flexibly. Modern devices are very bright and can be used for front projection as well as rear projection. By using the right lens, almost all requirements for projection distance and image size can be met.
LED walls can be supplied for permanent installations or mobile use indoor and outdoor. They are available in high, medium and low resolution and can be extremely bright. VICOM LED displays have a tested ball protection.

Commander - control console
Commander is a specially designed console for VICOM programs. It guarantees a maximum of comfort and allows a long time to accompany the games without getting tired.
On the console the most important functions are switched on. The occupancy is therefore different from sport to sport. The keys are software controlled and change their design as the sport changes.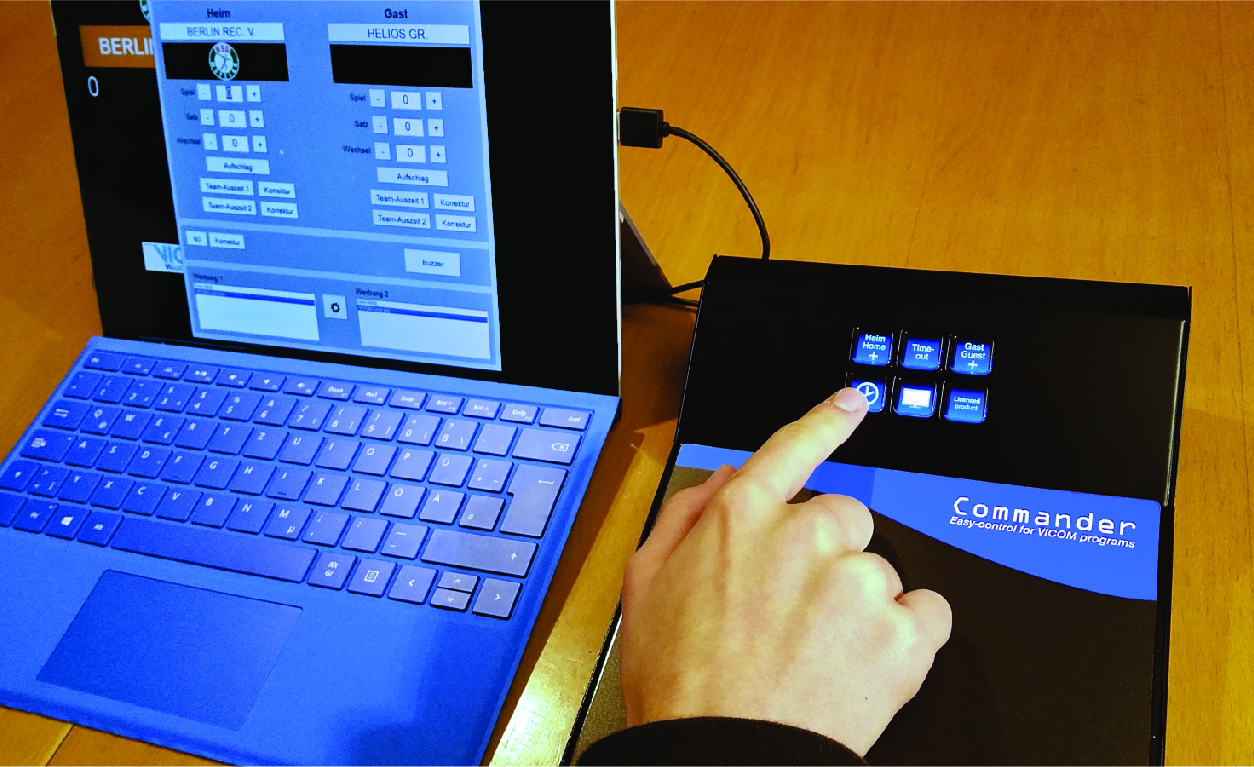 Available sports
| | | |
| --- | --- | --- |
| Handball | Basketball | Badminton |
| Football | American Football | Tennis |
| water polo | Simple school sport | Table tennis |
| Volleyball | Futsal | Hockey |
Other sports on request
(As of: March 2019)

Downloads & contact
Scoreboard - Scorecard PDF (DE) Scoreboard - Scorecard PDF (EN)