A powerful software package
VisGuide is an impressive software for Digital Signage Applications. It perfectly combines conference room management with the presentation of general information such as movies, slideshows, PowerPoint presentations, and more.

All possibilities of visual representation
All common multimedia formats, which are necessary for the representation of films and pictures, can be played with VisGuide. Files can now be simply dragged and dropped into the day application or a loop container.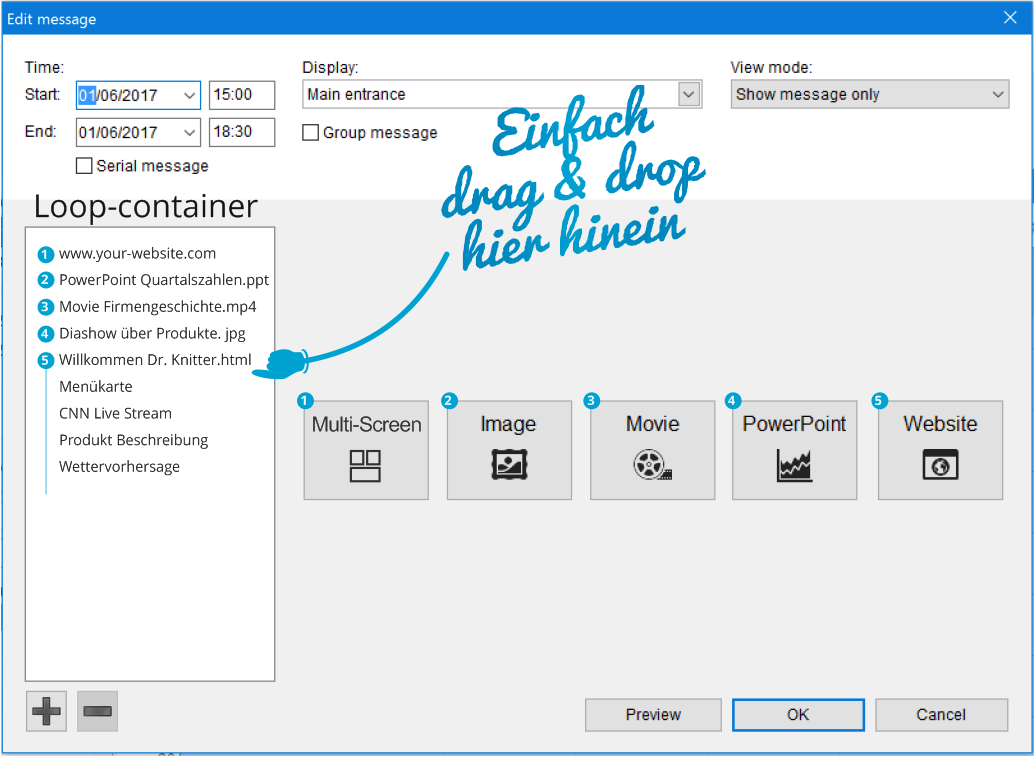 A powerful package
VisGuide is an impressive software for Digital Signage Applications. It perfectly combines conference room management with the presentation of general information such as movies, slideshows, PowerPoint presentations, and more.
VisGuide offers one of the best GUI (graphical user interface) worldwide - whether for conference room booking, advertising or a simple welcome screen. All connected screens are constantly supplied with new content.

If a new event is booked spontaneously, the monitor contents are updated automatically.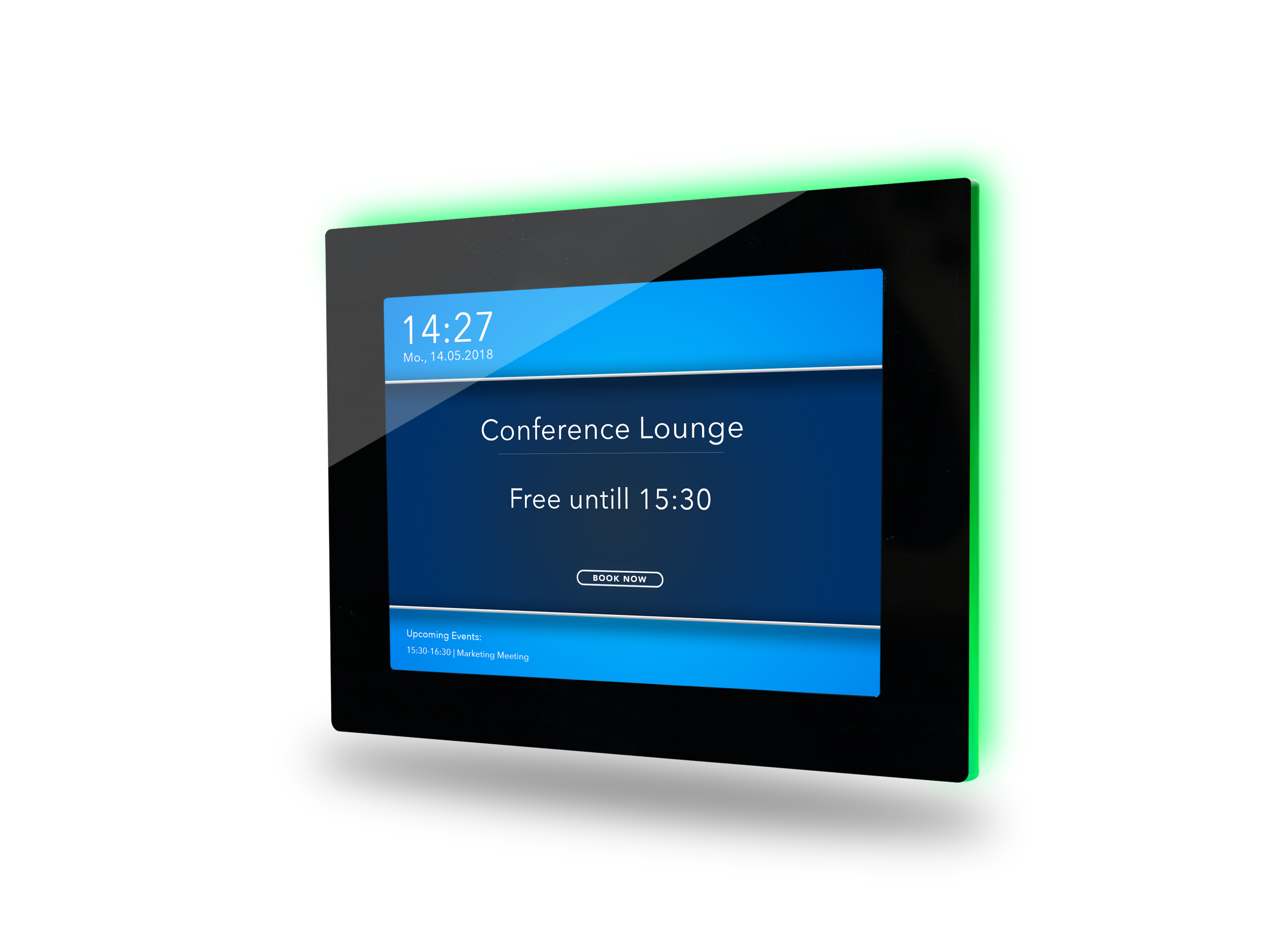 VisGuide software and the digital door signs - VisDoor are designed to show greetings as well as information in all possible languages, eg Chinese, Japanese, Russian, Arabic ...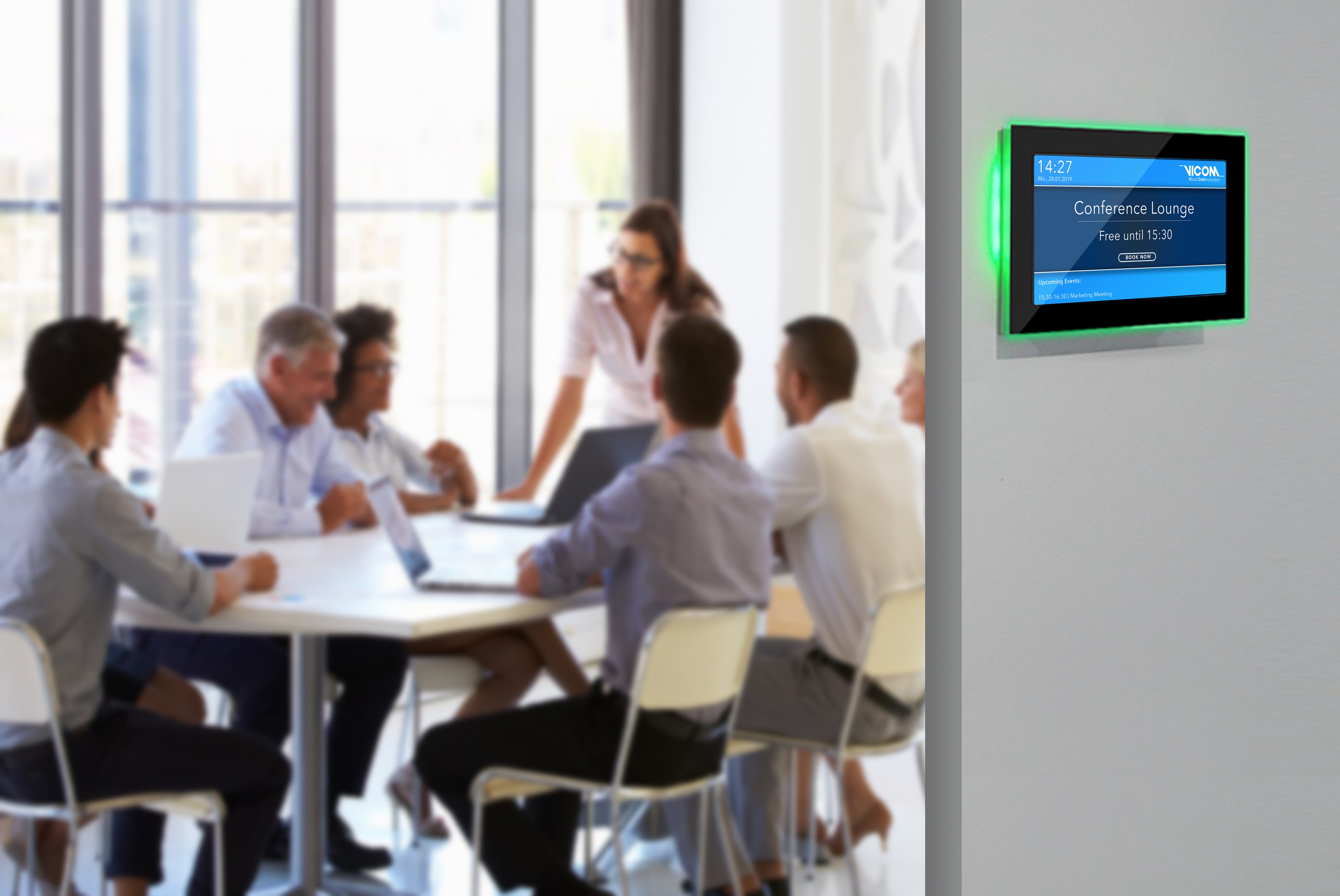 In front of each conference room, digital door signs (VisDoor) are installed, which display the current meetings in a time-controlled manner. In addition, the visitors to the model VisDoor BusinessLine Already remotely informed by a light frame whether the room is free or occupied.

News ticker
The ticker module is a universal utility for all types of ticker applications today:

The ticker concept of VisGuide is probably unique. First, the user can choose to use the automatic display of an RSS feed (that is, pre-made content retrieved from a website) or to place a text message of their own as a ticker. All composed text messages are storable so that they can be reactivated and updated at any time. The possibility of using different pleadings is especially helpful for foreign guests: Russians, Chinese and Japanese can be addressed with the help of their own characters.
Colors for fonts and backgrounds are freely definable
Transparency for fonts and backgrounds
Special characters from foreign languages
Various pleadings (russian, japanese ...)
All entries can be stored and edited
RSS feed or individual text input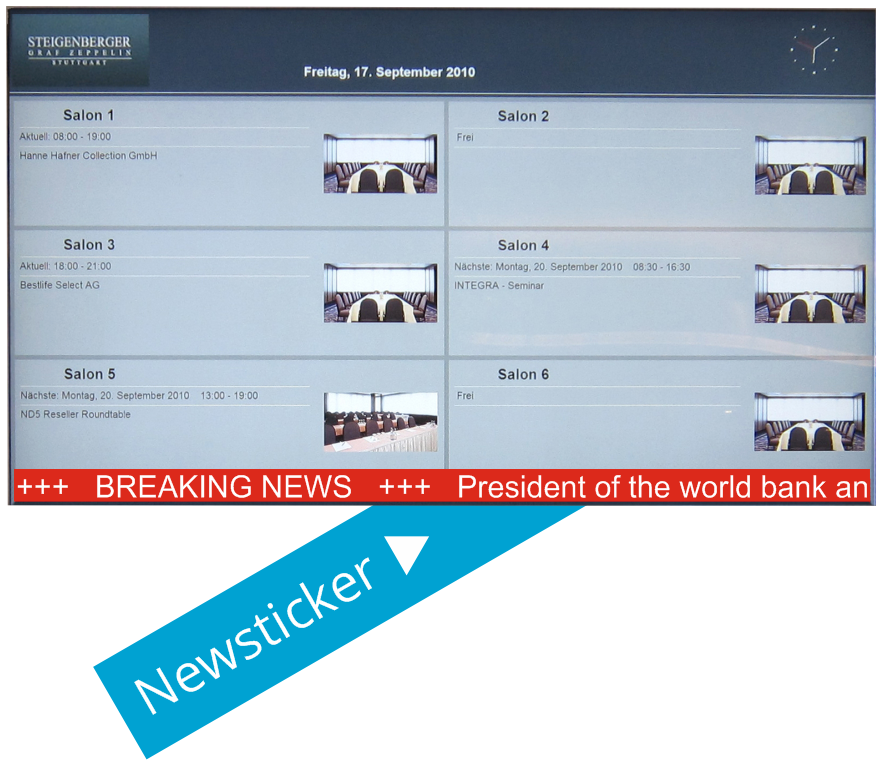 Flash messages

For urgent cases, in which messages must be displayed quickly and directly on the monitors, we offer the possibility to enter flash messages. These can be life-saving. Here are some examples:
FIRE - leave the building
SHOTS - include yourself
EARTHQUAKE - leave the building
Pausendeende - Please take your seats

Distribution of information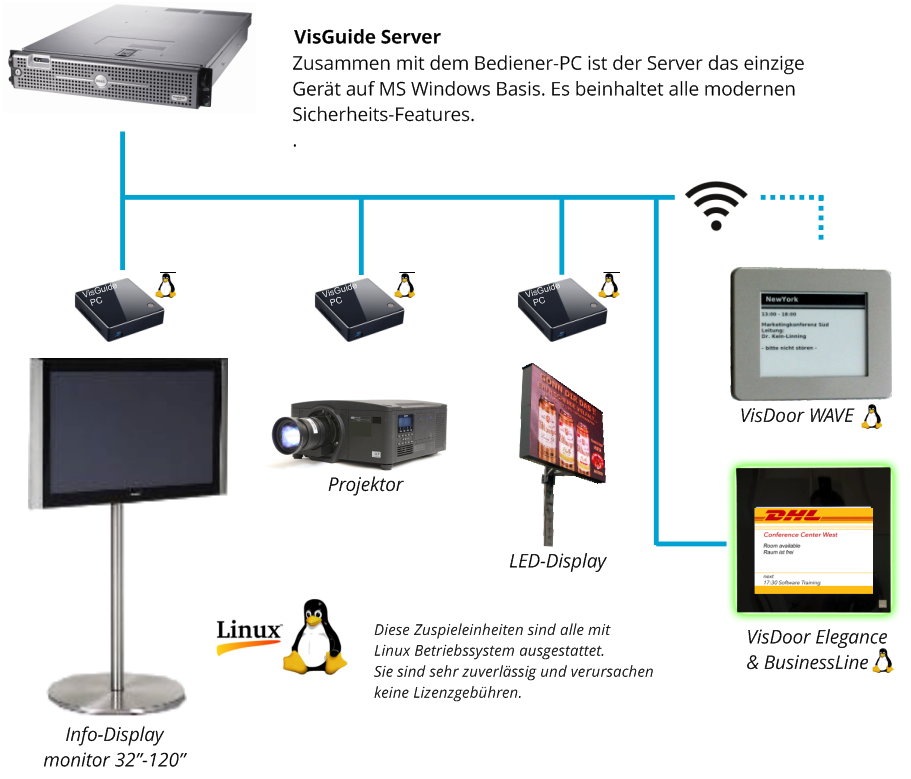 Direct control of the displays
Another security feature is the built-in control of the connected displays. This allows the operator to check from their workstation which image a specific monitor currently displays. In this case, REAL is sent an image of the current display via the data line.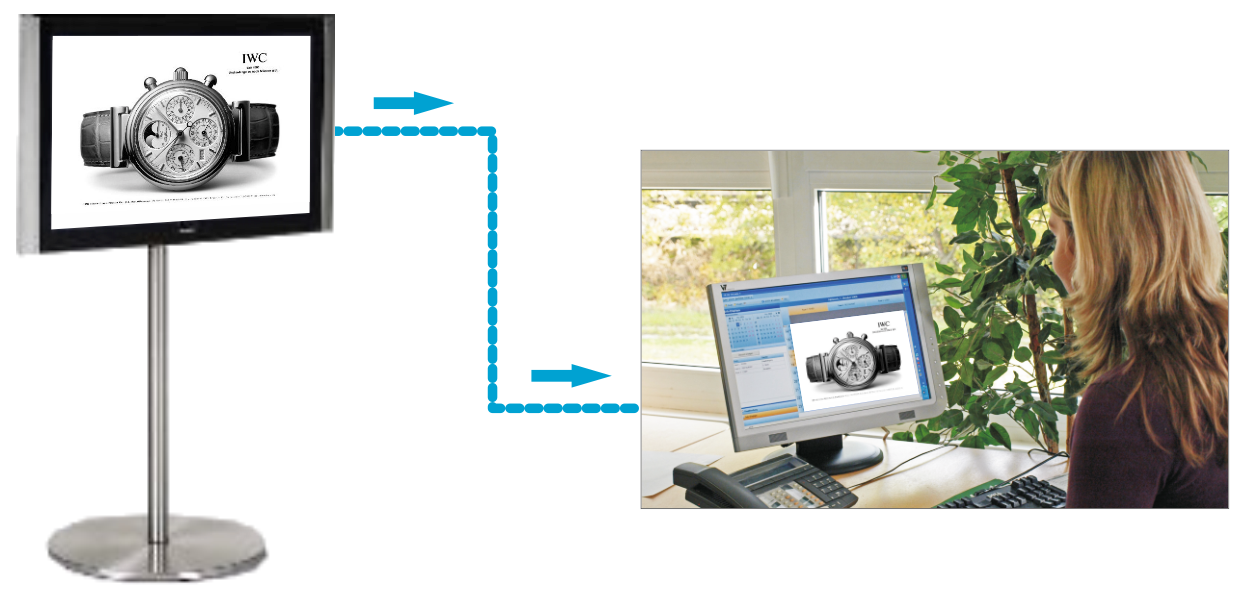 Advertising
VisGuide is an excellent medium for the transmission of advertising messages, because on the one hand all kinds of advertising messages can be represented (from advertising films up to spontaneously written offers), on the other hand these messages can be shown time-oriented.
Target group-oriented advertising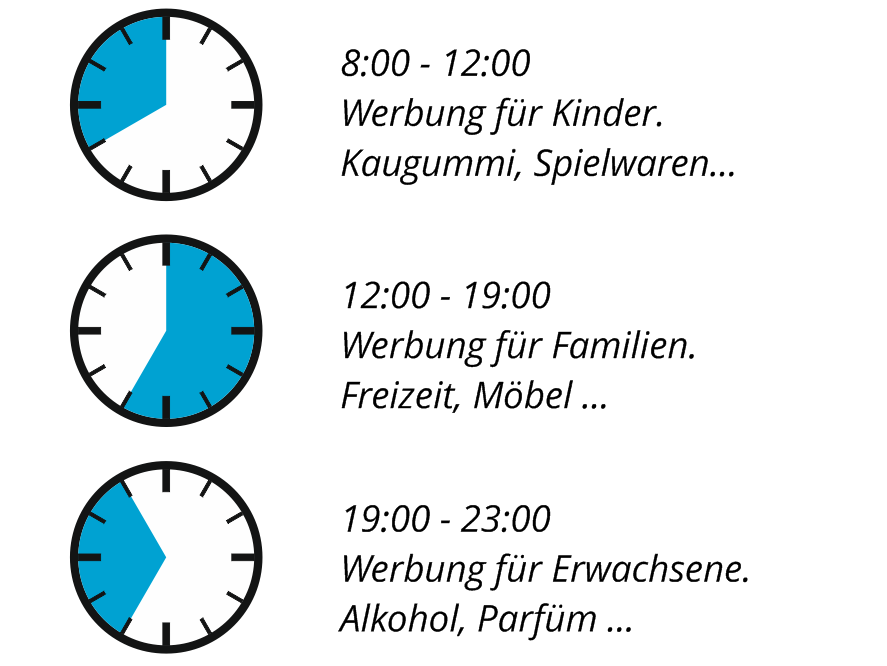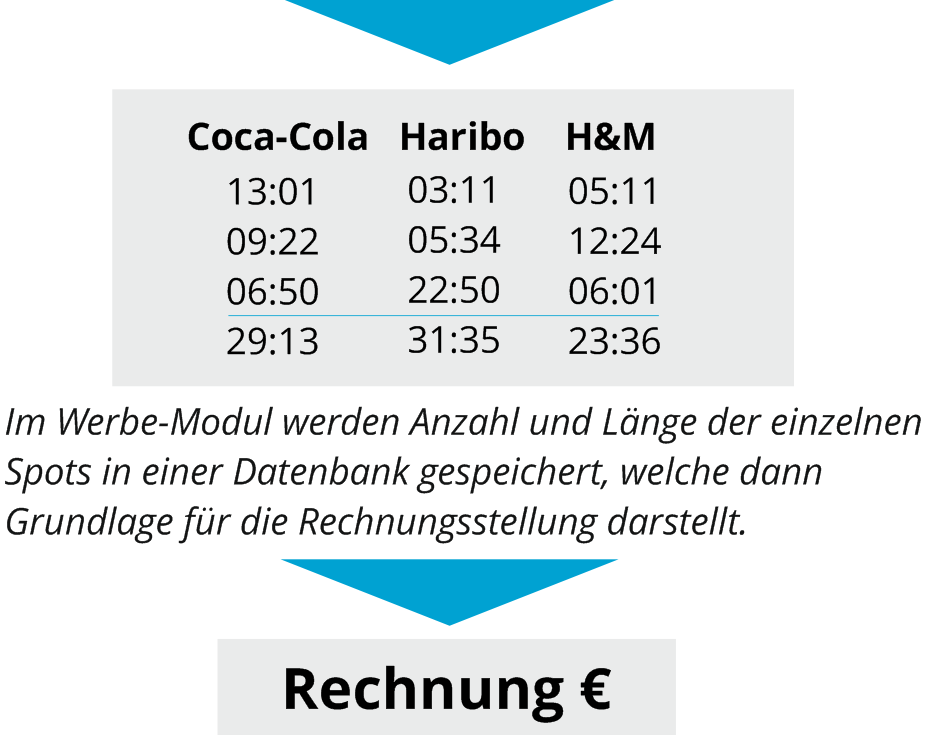 room booking
Individual presentation format
for every display monitor


Each display monitor can be individually specified a presentation format. Three formats are available:
Only video / image information
Only current conference room assignments
The mixed presentation of the first two possibilities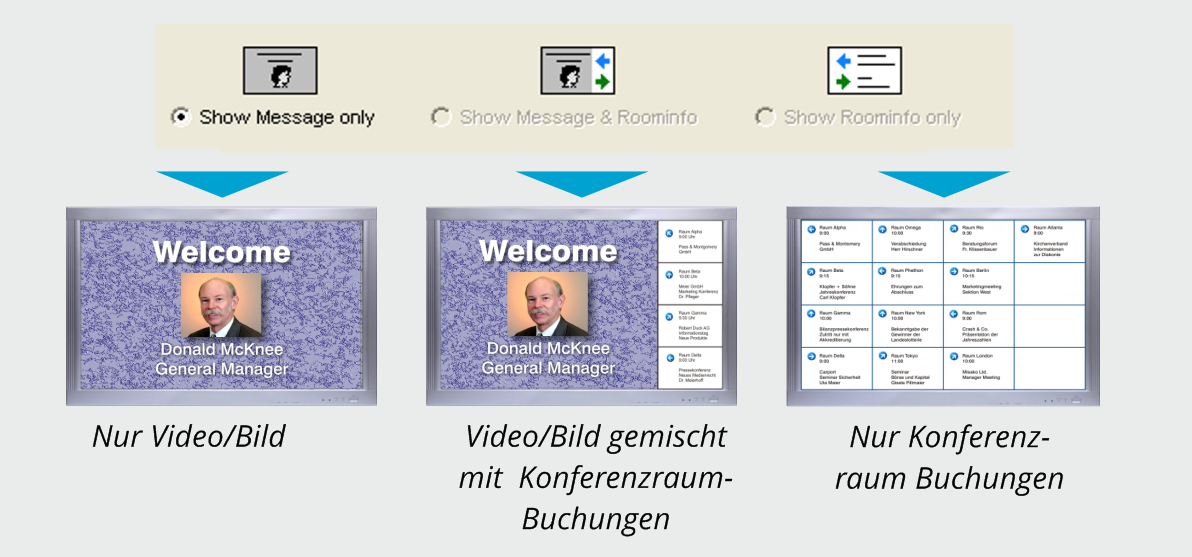 Connection to external programs
Connection via MS Outlook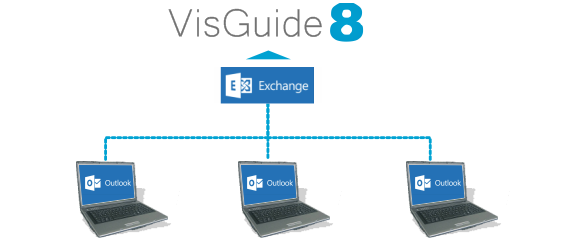 Connection via Lotus Notes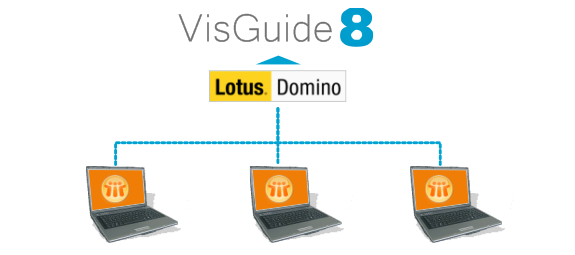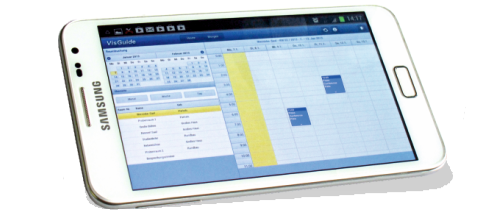 In large organizations, it is common today for sales representatives and clerks to post their numerous appointments via external programs.
Thus, appointments, participating employees, external personnel and the premises are efficiently coordinated and booked via Microsoft Outlook (in connection with Exchange server) or via Lotus Notes. Blackberry bookings are also possible.
VisGuide optionally has Exchange and Domino as well as other interfaces to communicate with external programs.
At the same time, nothing changes in terms of the tried-and-tested way of working, as VisGuide independently takes over the bookings made from the Exchange server and asks the responsible employee for additional requests regarding catering, technical equipment and the design of the digital door signs from.
Accordingly, the data transfer and booking processing functions similarly with Lotus Notes and the Domino server.

Multi-Screen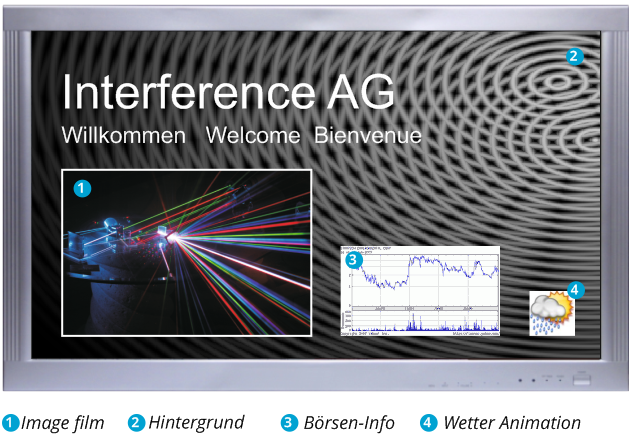 With the multiscreen option, you are even freer in the design of your presentation on the information displays. Multiscreen allows you to present multiple simultaneous feeds on one monitor.

Thus, multimedia movies, video livestreams, tickers and static image content can be freely combined. Smooth playback is guaranteed in all windows.

Cafeteria / Restaurant
The presentation of the menus can be carried out flexibly and professionally with the help of VisGuide. Even several food distribution centers can be recorded simultaneously with individual menus.

Enter the menu for today or one of the following days.
By pressing the "Preview" button you will see the presentation of the welcome screen.
The entry in a list display now appears on the monitor of the operator. He is easy to change or move.

Web-based VisGuide software version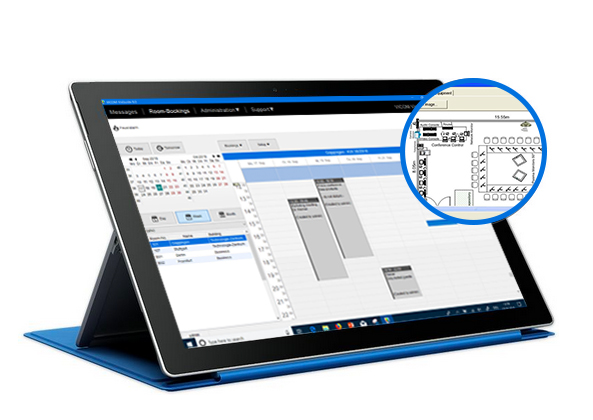 Starting with version VisGuide 8, a web-based version of the room booking module is available. Thus, bookings of conference rooms anywhere via iPad or smartphone via browser are possible.
The room booking module gives you a perfect overview of all bookings. Appointments can be made within seconds. The events can be changed at any time. Simply drag the booking with your mouse to another room or time.
There are various display modes - allowing the user to use the overview view of the day, week or month, thus finding easily related free capacities.

Features and system properties
Minimum System Requirements
Server:

Windows 2008 R2, 2012, 2012 R2, 2016 servers

Mind. 8GB RAM, better more

Processor with at least 4 cores

Client (Operator PC) 4 GB Memory (8 GB recommended for 4K)

Platform independent as web version. Can then be used for MS Windows, Apple OS, Tablets, Android, Linux and other operating systems

Minimum 3,8 GB of hard disk space
General program features
Simple menu navigation. Very clear and intuitive to use.

Program is divided into modules for room booking and information monitors as well as parking booking and administration (all modules optional)

There are 2 password levels: one for users, one for administrators

I

individual or serial inputs

Real-screen control

without

Using VNC

Web version available for room booking

Integrated calendar

Preview as WYSIWIG

Drag and drop functionality

Software suitable for HD and 4K playback

Supports touch displays

Russian, Asian and Arabic fonts can be displayed

T

freely positionable

When ticker background and font color can be freely selected. Transparency function is also integrated

Ticker runs "backwards" in Arabic scripts

Up to 1024 displays controllable (optional expandable)

Control of all screens individually or as a group possible

Flexible assignment when grouping screens (eg Monitor 4, 9 and 15)

Time-variable grouping of screens ("Foyer" monitor group displays content from 10: 00 to 12: 00.) The screens are then individually recorded

Especially easy moving and copying entries

Easy change between week and day view

Automatic error or problem notification (technical check runs in the background)

Different movies, animations, etc. can be displayed at the same time (split image)

Monitors are automatically sent from the server

switched on and off (adjustable in software)

Overwrite function for deactivated displays

Own, integrated monitoring program for Info-Monitors, VisDoor and Server

remote maintenance

Service availability via maintenance contract (optional)

Exchange Interface (optional)

Extension of Exchange Feedback for touchmonitor communication (optional)
VisDoor - Digital Doorplates
VisDoor are digital door signs, which are specially adapted to the VisGuide software. VisDoor are available with an elegant aluminum frame (model Elegance) or with integrated status LEDs (model BusinessLine). Special design on customer request is possible
VisDoor BuinessLine have built-in status LEDs. These adapt to color depending on the booking status. Green = free, red = occupied or individual color according to customer's choice

VisDoor is available as a surface or flush-mounted version

VisDoor can be switched on and off automatically via VisGuide

VisDoor comes in various sizes from 7 inches to 22 inches

Up to 1024 rooms can be managed simultaneously (optionally expandable)

Overwrite function for postings outside normal times

Available as PoE version (Power over Internet)
VisGuide Info Module
Info Monitors - Information, Advertising, Welcome and Leads
Compilation of a presentation via drag & drop

All usual video formats are playable

All common image formats are playable

PowerPoint is playable

Web pages can be viewed

Camera live images and TV streaming possible

Own, integrated monitoring program for Info-Monitors, VisDoor and Server

Suitable for all media such as monitors, projectors, LED displays, etc.

Can be used for assigning individual content or for central distribution (eg advertising agencies)

Especially for the lobby area, the monitor can be shared so that advertising, greeting events (room booking) can be displayed simultaneously
VisGuide room booking model
Coordinated with digital VisDoor door signs

Digital door signs of other brands can also be used

Simultaneous presentation of the booking on a welcome or room overview display (eg in the lobby)

Integrated calendar

A digital doorplate can also display two rooms at the same time

Individual or series bookings

Bookings for room groups

Log over all inputs we logged

Own, integrated monitoring program for Info-Monitors, VisDoor and Server
WAVE - Radio-based displays
WAVE are monochrome door signs that are controlled by radio. Since they are specially adapted to the VisGuide software, we describe the advantages here.
7,5 inches diagonal

12,5 inches diagonal

Battery life averaged 5 years (depending on the frequency of the booking update

Most modern e-paper technology

Radio transmitter bridges up to 70 m

Control via VisGuide room booking module

"Miscible" with other VisDoor series
Safety
AES128 encryption

Two password levels. One for the user, one for the administrator

Remote maintenance via TeamViewer

Log Viewer

available in the client (saves all posting transactions)

Own, integrated monitoring program for Info-Monitors, VisDoor and Server

Active Directory Integration (optional)

Downloads & contact
VisGuide 8 PDF (DE) VisGuide 8 PDF (EN) New: photo gallery contact form!