We offer SunScreen in 3 different versions:
Sunscreen Wide Angle (not transparent)
For use in higher ambient brightness, depending on the projector and lens also suitable for larger viewing angles.


SunScreen Transparent (transparent)
For optimum window transparency when the projection is switched off - the customer has an unobstructed view of the shop window displays.


SunScreen HighGain (not transparent)
with the widest possible light bundling for maximized projection brilliance at longer viewing distances.
We are happy to advise you on suitable projectors for their respective application.

A cheap alternative to LED displays

SunScreen - special film for super bright image reproduction
Projections in the shop window have long been a wishful thinking for shopkeepers, agencies and decorators. Numerous problems, such as too low light intensity of the projection or disturbing reflections in the shop window, so far precluded the practical realization.
Latest technologies have made it possible for VICOM to develop a system that meets all the needs of professional presentation and allows easy handling. With this new technology, an excellent representation of the image is achieved. Even in daylight, the projections are so bright and rich in contrast that commercial or informative statements can be conveyed without difficulty.
Special, durable components ensure that the projectors and playback devices used can last a very long time without being overly worn. A specially developed software ensures the professional presentation of your photos, films and graphics. The operation is kept very simple and convinces with novel effects and a first-class image quality. In addition, this software provides for the timer-controlled switching on and off of the projector.

SunScreen is a completely new developed high-tech film for rear projection, whose peculiarity lies in an extremely bright and colorfast image reproduction, even in broad daylight.
To do this, remove the backside protective layer and simply place the SunScreen self-adhesive film on the inside of the shop window.
SunScreen is easy to put on the disc and can be removed later residue free.

The self-adhesive special film with outstanding optical properties
SunScreen is a completely new developed high-tech film for rear projection, whose special feature is an extremely bright and colorfast image reproduction. SunScreen can display your movies and images so brightly that they can be projected by day. This is unique!
This great projection result is achieved by means of an optical film. This new development illuminates the image surface optimally and is insensitive to lateral stray light. This brings the viewer much greater viewing pleasure, because brightness and contrast are raised to an unprecedented level. This allows SunScreen to be used in daylight and in the right conditions, even in sunshine, compared to traditional rear projection screens and discs. SunScreen itself comes with a self-adhesive layer, so that the film can be glued directly to the shop window inside. Of course, SunScreen is removable without leaving any residue.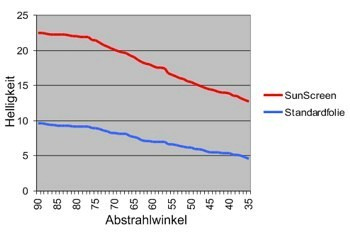 Anti-reflective film
Another component of this integrated concept is the anti-reflex foil from VICOM. Everyone knows the problem of reflective glass. Especially on bright days, the viewer is more likely to reflect himself in the shop window than to be able to see the display - let alone a projection.
The anti-reflective film in combination with SunScreen offers almost complete anti-reflection of the shop window. Regardless of whether directly from the front or from the side, the projection can be viewed trouble-free and the advertising message is easily conveyed. Here is an original comparison with unretouched pictures:
Direct comparison of a window projection in the
Practice links without Anti-reflective coating.
Right you can Anti-reflective coating. In addition to the anti-reflective coating
the antireflection layer also increases the contrast. you
sees the clear difference.

SIRIUS projectors - showcase projector for hard continuous use
SIRIUS projectors are specially designed for cross-country skiing. They have optical and electronic components that can do much more than off-the-shelf "off-the-shelf" projectors.
This makes SIRIUS projectors one of the few that allow permanent operation - 24 hours a day - and 7 days a week. This continuous loadability documents the quality and longevity of these devices. SIRIUS projectors from VICOM have long been used in theaters and opera houses, where reliability has always been a decisive criterion.
Automatic operation by software control
SIRIUS is a projector perfectly tuned to the software "SunScreen Professional" (see description in the next chapter). This software turns the projector on and off at a preselected time, so nobody has to worry about operating the window projection. If an error occurs in the projector, SIRIUS automatically reports the malfunction to the program. Optionally, it also sends error messages via LAN / Ethernet / Internet to external recipients.
Interchangeable lenses
The lenses can be changed within a very short time on this projector. This allows the shopkeeper to easily change the decoration and move the projector to another location. The operator has the advantage of great flexibility, so he can take the projector at short notice the shop window and make a presentation, for example, at an exhibition.
Additional security through maintenance contract
In order to achieve the greatest possible security, we offer our customers a maintenance contract for the entire system. Especially for the projector, this means that fan cleaning, lamp replacement and any replacement of wearing parts can be made before it can interfere.

Get SunScreen
SunScreen is delivered to you as a roll product for self-winding. Of course, technicians from VICOM can also attach the films expertly. The material is generally available in standard sizes or at your request as a special measure. As a general rule, we can deliver all sizes with the exception that the roll width is limited to 1,50 m. The length is almost unlimited.
Standard dimensions in 4: 3 format
Standard dimensions in 16: 9 format
Size inches
Width (mm
Height mm
Size inches
Width (mm
Height mm
V128 "
2600
1950
HD158 "
3500
1950
V118 "
2400
1800
HD150 "
3300
1850
V98 "
2000
1500
HD140 "
3100
1743
V72 "
1460
1100
HD130 "
2860
1608
V67 "
1370
1030
HD120 "
2650
1490
V60 "
1220
915
HD110 "
2430
1366
V50 "
1000
750
HD100 "
2220
1248
V40 "
800
600
HD90 "
1990
1119
V37 "
750
563

Downloads & contact