Weatherproof housing for projectors and monitors
VICOM weatherproof housings are fully air-insulated protective housings for video and data projections as well as monitors for outdoor use.
Projections in extreme outdoor use for advertising and presentations of all kinds are increasingly used. We manufacture weatherproof enclosures that protect expensive equipment against rain, snow, hail and heat. They are fully air conditioned and are electronically controlled.
The picture above shows a cinema that projects advertising films and trailers onto its own façade. The weatherproof housing was integrated into a decorative glass cube, which also serves as advertising space.
Monitors with protective housing
Outdoor monitors require protection against the effects of the weather, especially protection against vandalism.
We bring here particularly impact-resistant discs and acrylic glasses used. The housings are screwed directly to the wall in case of vandalism, so that they can not be levered with tools off the wall.
In the picture on the left a 60 "monitor for outdoor use on a restaurant terrace.

protection against
Cold, frost and snow

The weatherproof housings are independent units, thermostatically and processor controlled. Indoor conditions such as temperature and humidity are constantly controlled. The system responds immediately to changes and corrects them immediately. The use even in very harsh winters - as shown in the pictures - is a typical application for VICOM weatherproof housings.
Hitze
Many installations of VICOM weatherproof housings take place in desert areas, such as In Arab countries or Las Vegas. Extreme heat and especially the fine sand are a special challenge for our engineers and the production.

Conception of an all-weather climate house
VICOM weatherproof enclosures are built according to the state of the art. They cover all technical requirements and protect against all weather conditions.
The outer housing is made of weather-resistant and self-supporting aluminum frame, which is lined with insulating foam materials. The entire housing can be screwed to a variety of substrates. Doors are of course lockable, optional is an upscale vandalism and theft protection available.
A powerful air conditioning system is individually tailored to the projector type and the BTU / h heat energy output. It ensures sufficient cooling even on hot days. Heating and dehumidification are controlled by sensors and thermostats.
Optionally, a windshield wiper is available for the projection window, which automatically regulates its wiper intervals by means of a rain sensor.
The powerful air conditioning system is individually adjusted to the projector type and the BTU / h heat energy output. It ensures optimal cooling even on hot days and protects the projector or monitor from damage (even if they are switched off). Heating and dehumidification are controlled by sensors and thermostats.
Each weatherproof housing has a secure electrical box for connection of the projector, but also PC (for digital signage feeds), DVD, monitoring devices, etc.
Optionally, the projection window can be closed automatically with a mechanical shutter when the projector is turned off. This has two reasons: First, it serves as a screen against too curious glances into the interior of the housing. Second, no sunlight can fall into the lens during the day. This can be extremely dangerous because the lens focuses the sun exactly on the image modulator (LCD or DLP) and can cause considerable damage. For monitors, a similar protection mechanism is available. This is realized in the form of a controllable blind.

VICOM housing variants
Of course we also build climate enclosures for smaller projectors - also in special versions eg for swimming pools, also with appropriate brackets.
We are happy to offer you complete systems incl. Projector or monitor.
The weather protection housing VICOM MIDI is the design for large projectors such as SANYO XF47, EIKI XT5, ChristieLX 1500 or similarly strong devices. This refers to projectors with a light intensity up to 15000 ANSI lumens.
The weatherproof housing VICOM HIGH POWER is the version for the really big projectors like Christie HD35, Barco FLM HD30 or similarly strong devices. Ideal for projectors with a light intensity from 25000 ANSI lumens.
Optional equipment
Windshield wiper
Wiper control by rain sensor
Timer or closing contacts
Special reflection-free glass
Housing in RAL colors
On the right you can see a weatherproof housing for projectors and lasers, installed in a large amusement park near Paris.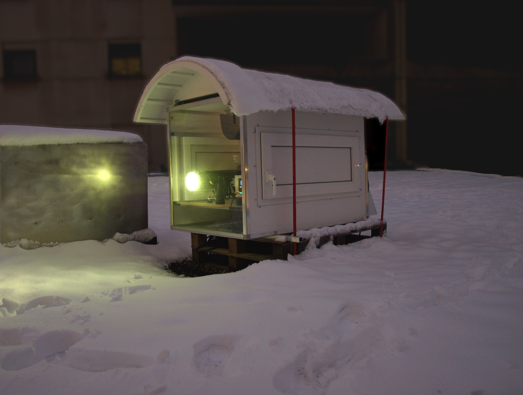 Integration into the environment
3 weatherproof housing for Barco XLM projectors for a multimedia show on water curtains.
Perfect integration of a weatherproof housing into a historical environment

Downloads & contact