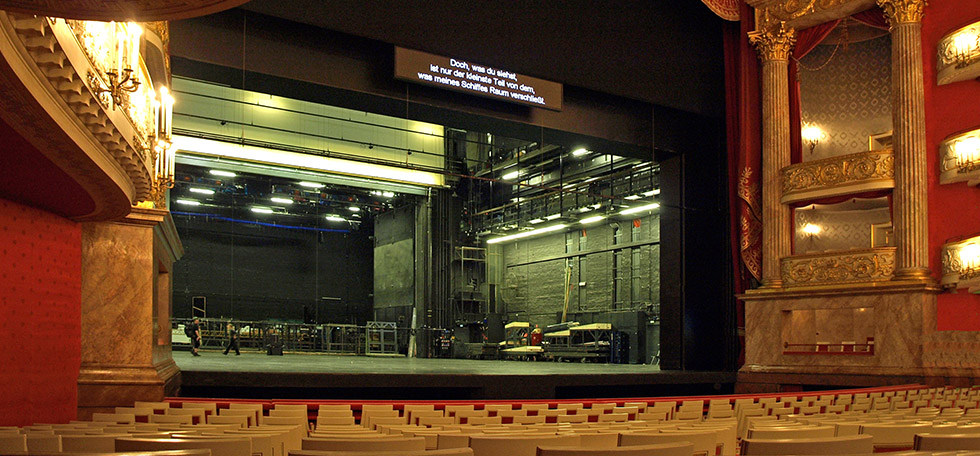 Das führende Übertitelungsprogramm in Europa
VICOM SurtitlePro ist das führende Übertitelungs-Programm in Europa. Es zeichnet eine einfache Bedienung und eine sichere, präzise Präsentation aus.
SurtitlePro ist einsetzbar für LED-Displays, Projektoren, Monitoren sowie analoge und digitale Sitz-Systeme.
Eine viel gelobte Nutzung dieses Programms wird im Grand Theatre del Liceu, Barcelona vorgenommen. Dort werden Projektion, LED-Display und Textmonitoren in den Sitzen gleichzeiteig von dieser einen Software gesteuert.
Neu in Version 6 ist, dass LED-Displays mit Ihrer enorme Helligkeit endlich professionell gesteuert werden können. Falls nun in einer dunklen Szene die Texte zu hell erscheinen, kann im Programm ein definierter Bereich mit nur z.b. 17 % Helligkeit wiedergegeben werden.
Features
nahezu freie Überblendzeiten
X-Blenden oder V-Blenden wählbar
absolut kein Ruckeln während der Überblendung
Havarie Funktion
bis zu 12 Sprachen werden gleichzeitig gezeigt
Chinesisch, Arabisch, Japanisch uvm. ist möglich
äußerst zuverlässig
und vieles mehr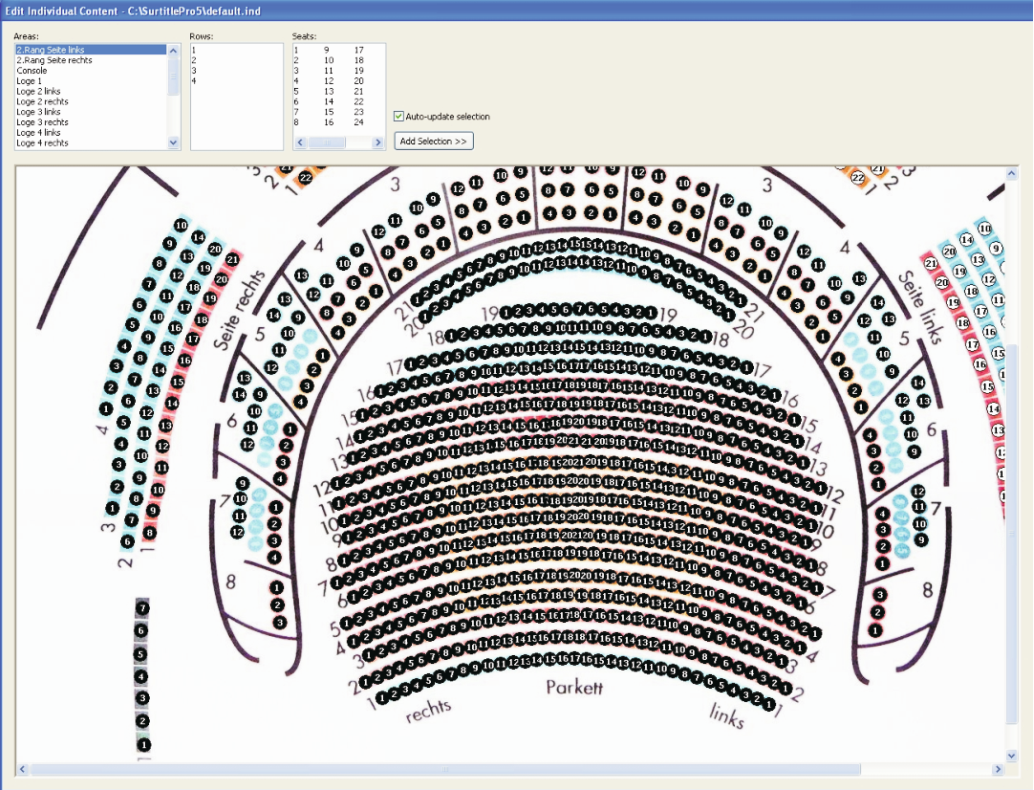 Software Vorbereitung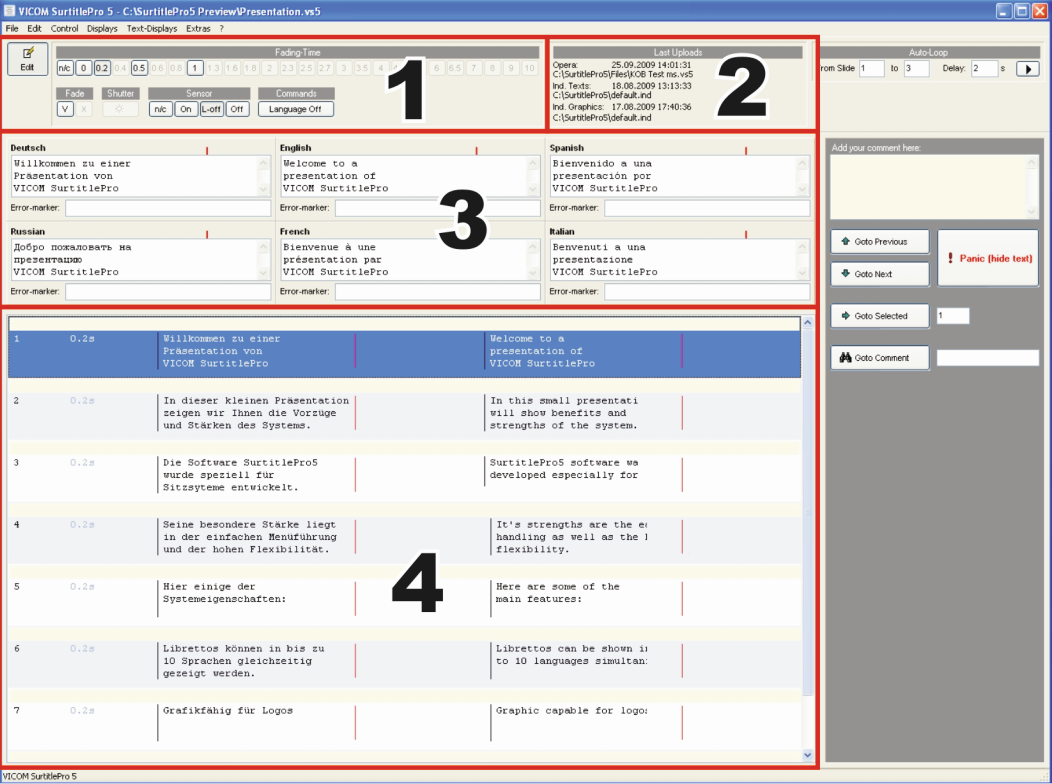 The menu is clearly and logically arranged. The user can learn the basics very fast.
Program options like fading times and control instruments.
Documentation of the last up-loads onto the displays.
Edit window for live text editing of all languages. Window can be closed if not needed.
Cue list. All parameters are included for the presentation. The individual cues just need to be executed.
Editing
One problem with multi-lingual translations is the coordination with the translators. Mostly, they are not present at the rehearsals. For this reason the operator can write an individual comment in every language to each text block and record the comments during rehearsals and during text proof-reading.
Only then, the text extracts in the divers languages will be exported and given the translators for revision. The revised extracts will then be re-imported into the program.

Konzept
VICOM breaks new ground with its new technical concept. Projects can be realised that were impossible up to now.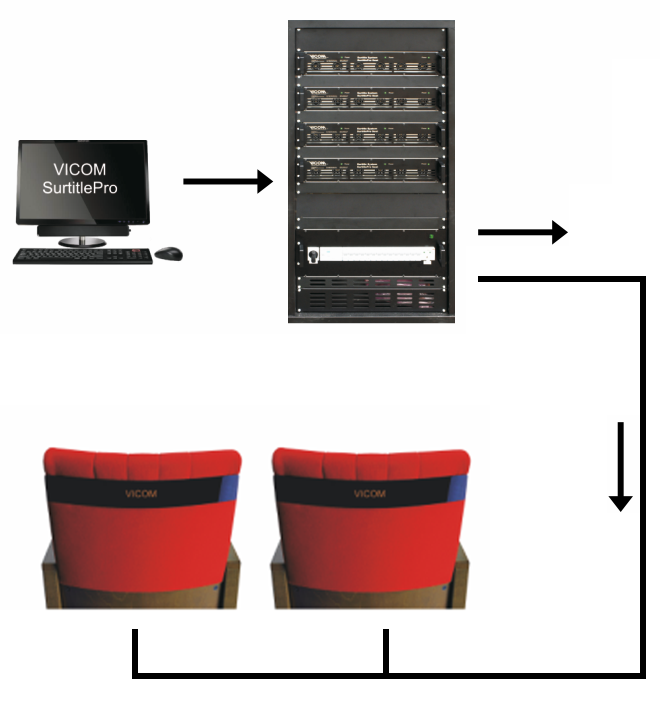 Displays
The displays are built into the seat backs on rail mount systems. Thus the position can be adjusted individually for an ideal angle of view.
In certain areas of the theatre, like the periphery or some seats in the middle, two displays have to be built into one seat back, because in the seat row behind two visitors have to read from the same seat in front of them.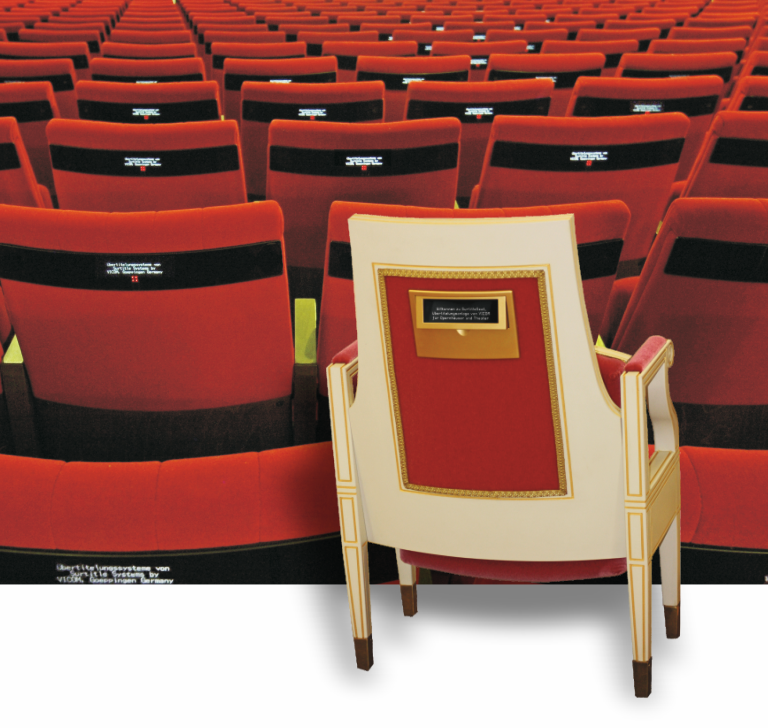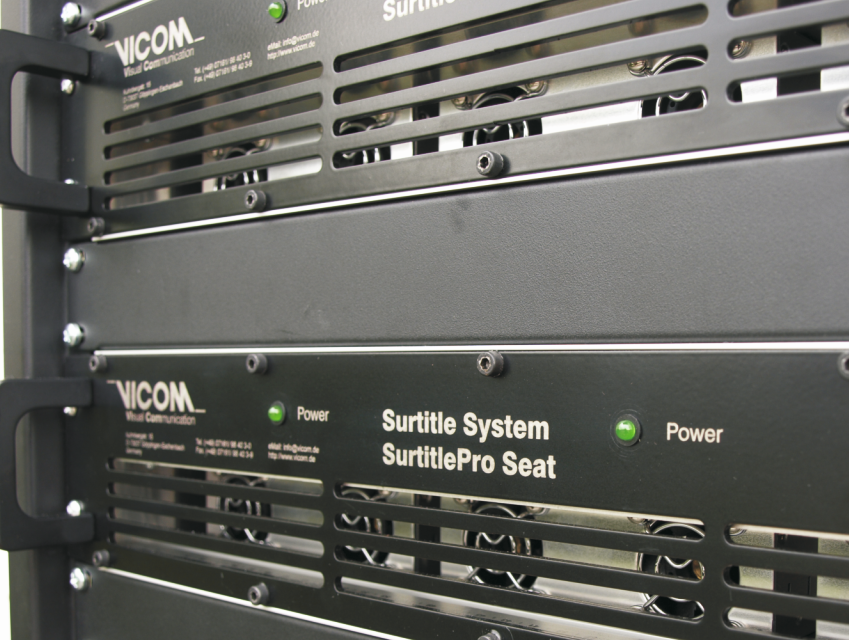 Kontakt